Conference Fee
Conference fee has been set to 100 USD. It will be collected in cash during the registration.

Conference Registration
Registration for conference participants will be open on the second floor of the hotel just outside the main conference room (Grand Ballroom) already on Sunday, February 12th, 2006 between 1430 and 1800 hours, and as usual before the start of the conference on Monday, February 13th from 0800 to 1000 local time.

Visa Assistance
E-mail: pdc

abrs.gov.cn
Fax: 86-10-86092064
Visa should be applied BEFORE January 6, 2006. Because from January 28 to February 12, 2006 is China's New Year holiday according to lunar calendar. China's embassy will have a three-to-five-day-holiday during this period.

Conference Team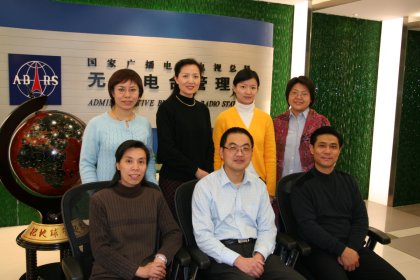 Click for high resolution photo
Hainan Conference Team: Sitting, from left to right: Mrs. Minmin Yang, Mr. Guangli Zhang, Mr. Guoliang Qiao. Standing from left to right: Mrs. Fang Wang, Mrs. Li Wang, Ms. Xi Zhang, and Mrs. Wei Yin.
ABU Workshop
The Steering Committee of the ABU-HFC have decided to organise a half-day workshop on Sunday, 12 February from 2 to 5.30 PM local time on software packages that are generally used for propagation prediction and coordination purposes. The workshop will be conducted by Geoff Spells of VT Communications. It is organised for ABU-HFC participants but interested HFCC/ASBU members are cordially invited as well.
Information on Airports
There are two airports in Hainan, one is Haikou which is the capital of Hainan Island, the other is Sanya international airport which is our meeting place. The distance between them is 250km or so. RTC plans to pick up participants in both Haikou and Sanya. Sanya airport is recommended.
Geographical Location
Hainan Province is the solely tropical island province of China, administrating Hainan main island, the islets and reefs of Xisha, Nansha, Zhongsha and their surrounding waters. Hainan Province lies in the central part of Asian Pacific Economic Circle, facing Leizhou Peninsula of Guangdong over the Qiongzhou Strait. The west of the island borders the Gulf of Tongkin, with Vietnam visible in the distance. The east of the island is near to Hong Kong and Taiwan, and the Philippines is in southeast. The South Sea in south of the island adjoins to Malaysia, Indonesia, Brunei and Singapore. Haikou City, the capital of Hainan Province, is away from Hong Kong for 50minutes by air and 2-3 hours from above foreign countries and regions.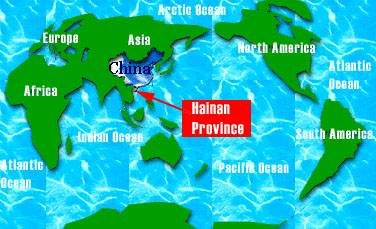 Area and Population of Hainan
Hainan Island is the second largest island of China, taking up a land area of 34,000 square kilometers with a population of more than 7,600,000 in 1999. Many nationalities live in Hainan Island, mainly including Han, Li, Miao and Hui nationalities. In China, Li nationality live in the middle and south of Hainan Island only. The total population of Li nationality is of 1,280,000 in 1999.
Climate
Hainan Island has monsmoon tropical climate with annual average temperature 22?-26? and annual rainfall 1500-1600mm. More than 300 days of a year are sunny days. Hainan is a good place of escaping cold, relieving summer heat, having holidays and traveling due to the above-mentioned climate.
Sanya has its special climate, she belongs to the tropical sea climate all the year round, and has fasinating deep blue sea water along with white soft sand beach. The major feature of Sanya is: it` s not too hot in the summer while it`s not too cold in winter, In summer, the temperature ranges between 26-32 0C, in winter it ranges between 21-25 0C.

Ecological Environment
Hainan Island develops lately with well protected natural environment. the forest covers 51.5% of Hainan Island. At present there are five tropical primeval forest areas in Hainan Island: Wuzhishan Forest Area, Bawangling forest Area, Jianfengling Forest Area, Diaoluoshan Forest Area and Limushan.
Special Local Products:
Hainan speciality: Betel palm, pineapple, jackfruit, rambutan, pepper, lichee, longan, mango, banana, poplar yang, cashew
Qionghai speciality: Jiaji duck
Sanya speciality: coral, Sanya coco carve
Wanning speciality: Hele crab, east mountain goat
Others: Food-sea dry food, tea, candy, coffee, etc.
Clothes - Hainan Island clothes
Handicraft - crystal craftwork, pearl necklace, etc. and home decoration, for examplae trumpet shell, etc.
Sanya Toursit Attraction:
nearby tourist attraction of Gloria Resort Sanya Hotel
Yalong Bay Center Plaza - 15 minutes by walk from Gloria Resort Sanya Hotel which has public seashore, south sea special product shopping arcade, and parking lot, etc.
Yalong Bay Conch Center - 15 minutes by walk from Gloria Resort Sanya Hotel.It has the most complete types of conchs in China. You could see various beautiful and amazing exhibition of rare and valuable conchs.
Butterfly vally park - 35minutes by walk. It covers 1.5 hektare area and is a natural museum which faces sea and lean against mountains. It is a big exhibition hall which has more than 500 types of butterfly specimen. The butterfly yarld takes 1,500 square metres. Thousands of butterflies are dancing gracefully under a huge steel net.

If you travel in Hainan, Sanya is the best place to visit. If you travel in Sanya, there are places you cannot miss, those are:
One Temple--Nanshan Temple
One Corner--Tianya Haijiao( the Remotest Cape of the Earth) scenic spot symbolizes "edge of the sky and end of the sea" because it lies in the most southern part of China.
One Sea--Big East China Sea
One Mountain--Turn-round-deer Mountain
Two Bays--Yalong Bay, Sanya Bay
Two Islands--West Island, Wuzhi Mountain Nature Reservation Zone

Electrical Current
220 volts, 50 Hertz in China. Both two flat blades and three flat blades of electrical plugs are suitable.
Currency
The Chinese Ren MinBi(RMB). There are currently about 8.08 RMB to 1.00 U.S. dollar. At the Sanya airport, there are many currency exchange booths where you can get RMB from your credit or debit card.
Transportation
The airport of Beijing is called Beijing Capital International Airport, the airport of Haikou which is the metropolis of Hainan Province is named Meilan International Airport, the airport of Sanya is named Phoenix International Airport.
Time
The time zone in Sanya will be UTC+8 at the time of the conference.